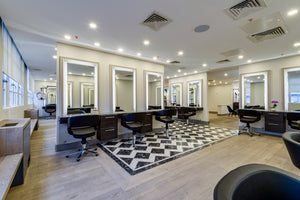 WELCOME TO JO HANSFORD
Our hair and beauty salons are all located in the heart of London. Our original flagship salon is situated in fashionable Mayfair and you'll find our newest salon at Harvey Nichols, Knightsbridge.
Working in the heart of cosmopolitan London, the Jo Hansford team is vastly experienced in dealing with an extensive range of nationalities and hair types; from European and Asian, to Middle Eastern hair – so clients can be assured of their wide-ranging talent and expertise.
We have designed our salons to provide a welcoming atmosphere, in luxurious surroundings – and we look forward to seeing you very soon.
MAYFAIR
Nestled for over two decades in the heart of Mayfair, Jo Hansford MBE, is widely regarded as one of the leading hair colour salons in the world.
As well as this outstanding accolade, the salon is also proud to be in possession of some of the finest stylists in London, who are highly skilled in all services from cutting and styling to Brazilian and Keratin blow dries and extensions.
What's more, our first-class beauticians provide a wide range of both traditional and innovative beauty treatments, so you can meet all your beauty needs in one place.
HARVEY NICHOLS
Jo Hansford, Knightsbridge is housed on the 4th Floor of the UK's premier luxury fashion retailer, Harvey Nichols. This beautiful space spans over 3000 square feet and many of the capitals top colourists and stylists are resident there.
Along with the same incredible hair services found at our Mayfair salon including; Brazilian and Keratin blow dries and extensions – at Jo Hansford Knightsbridge, you can also book an appointment with Europe's expert in handmade hair wigs and hairpieces.
We also have an award-winning consultant trichologist in-house and a number of in-demand beauty services including; James Read spray tans, Skinceuticals facials, massage, brows, lashes and waxing.
CONSULTATIONS
Customer service is at the heart of our brand and therefore we always advise our clients to book in for our unique consultation process where possible.
This allows you to meet your colourist in person and gives you a chance to discuss your hair in detail and what you would like to achieve. Bookings are available every day for a small charge which is redeemed against your first appointment.